Welcome to the corner on luxury.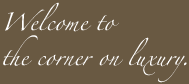 Where new condominium homes boast distinctive amenities, like concierge service, tranquil solariums, private elevators, and private balconies. Where boutique shopping and alfresco dining are just steps away. And where quaint, tree-lined streets invite leisurely strolling, while the allure of Downtown, world class shopping, and the convenience of the airport are just a few miles away.
Welcome to luxury beyond compare.
Welcome to Bexley Gateway.
Start your tour at our Welcome Center located at the Park Three Brownstones behind Moshi Sushi. A trained representative will greet you and be able to take you on a tour of our entire building.
Models Open:
Mon-Tue 12pm-5pm
Thurs-Sun 12pm-5pm
Click here to take the Bexley Tour